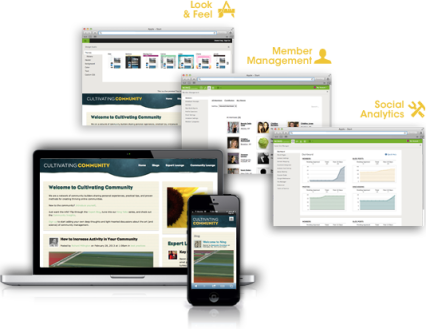 We're thrilled to unveil one of the largest projects ever undertaken at Ning: the re-imagining of our product. We redesigned Ning to address the changing needs of social leaders like you who've built successful online communities on and off Ning. You need to both communicate with your fans and foster engagement within your community. You need flexible ways to interweave content you publish, community-generated content and your activities on other social platforms. And of course, you have high standards for design to protect your brand. Ning 3.0 addresses all of these needs in new and powerful ways:
Community + Publishing – Create multiple instances of features, each with distinct contributors, privacy and commenting. A completely redesigned Blog feature.
Design Customization – A simpler, yet more powerful Design Studio with 1400 background images, balanced color palettes and translucent options.
User Experience – A clean, contemporary look and simpler UI for all features.
Responsive Design – Content and navigation automatically adjust to smartphones and tablets.
Social Channel Integration – A new simple way to pull in YouTube and Vimeo channels
Don't take our word for it – start a free trial and experience Ning 3.0 today!
See the latest release for Ning 3.0 in action below: